The year 2017 marks Nebraska's 150th anniversary of statehood. The Museum of Nebraska Art (MONA) is uniquely positioned to observe this milestone, since MONA's mission is to showcase the art and cultural history of the state. The Museum is proud to feature, through a series of exhibitions, its permanent collection in a visual festival of Nebraska art in honor of Nebraska's Sesquicentennial.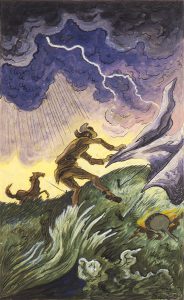 August 22, 2017 – February 25, 2018
Francis Parkman's novel, The Oregon Trail, was first published in 1849 after magazine serialization between 1847 and 1849. Each generation of publishers chose a different artist to illustrate the ever-popular Parkman text. The 1945 edition featured Thomas Hart Benton's renditions. MONA's collection of all 28 of Benton's gouache paintings, including the 16 chosen for the 1945 edition, represent the only complete set known to exist.