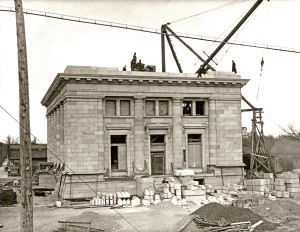 In 1976, the Nebraska Art Collection Board of Directors began with fewer than 30 pieces of art and a dream to create a collection and a showplace with which to celebrate Nebraska's unique artistic heritage. Statewide support of this endeavor was acknowledged in 1979 when the Nebraska Legislature passed LB116, recognizing the fledgling collection as the official collection of the state. A national endorsement came later that year when the National Endowment for the Arts provided funds to broaden the collection to include the work of contemporary artists. A locally initiated effort to provide a home for the collection culminated in 1986, in the purchase and renovation of the building that had served as the Kearney Post Office since 1911. The Museum of Nebraska Art (MONA) was dedicated and opened to the public in October, 1986. In 1993, after successfully fulfilling the terms of a $1 million challenge grant from the Peter Kiewit Foundation, the renovated and enlarged Museum building was opened.
Since that time, MONA has grown into an important regional center for cultural activity revolving around the extensive and varied permanent collection, which is comprised of over 5,000 artworks. The Museum now addresses its mission of not only collecting and preserving art, but enhancing the quality of life by providing expanded scholarly, educational, and outreach programming.
MONA's permanent collection reflects the history and culture of the state and holds work from artist-explorers like George Catlin to the early 20th century American master and Cozad native Robert Henri, to Thomas Hart Benton's original illustrations for The Oregon Trail. MONA also proudly displays one of the nation's premier collections of wildlife art by John James Audubon.
Contemporary Nebraska artists are featured in the Nebraska Now series of revolving exhibitions in the Museum's Gail Walling Yanney Skylight Gallery and the Cliff Hillegass Sculpture Garden provides a quiet spot to enjoy outdoor sculpture.
The Museum continues to enhance the historical significance of the collection, while taking an active role in the ever-unfolding story of the cultural development of Nebraska. MONA's Education Department conducts tours and hands-on workshops for thousands of students and adults each year, leading audiences to a greater understanding of the artwork on display and of themselves. The Museum's outreach program called ARTreach makes touring exhibitions of original works from the Museum's permanent collection and interpretive information available to exhibition venues throughout the state.