MONA Plans for Major Restoration, Renovation & Expansion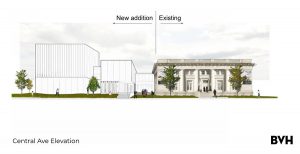 KEARNEY, Neb. (Jan. 6, 2021) – The Museum of Nebraska Art (MONA) is embarking on a plan to restore, renovate and expand its facility as steward and home of the Nebraska Art Collection. Museum leadership has reimagined how MONA can be a source of discovery and delight through educational programming and events in addition to offering more inviting galleries, exhibits and indoor/outdoor public spaces.
"We are committed to our mission of being the home of the official visual arts collection of the state of Nebraska that was established by the Nebraska Legislature in 1979. MONA is the only museum dedicated to telling the story of Nebraska through the art of Nebraska," said Marilyn Hadley, president of MONA's board of directors. "Our plans call for adding more space to accommodate our growing collection, and to rejuvenate our facilities plus add new amenities, such as outdoor green spaces for the enjoyment of our citizens and visitors. We are proud to call Kearney home, and we are very grateful for the support over the years from the Kearney area community. We recently presented our plans to the Kearney Downtown Improvement Board, and we appreciated their very positive response to our plans to make the downtown area even more vibrant."
"We are positioning MONA to be the destination for Nebraska artists and collectors as well as for our local citizens and visitors to the region. We have carefully researched and planned for new programming that is relevant and pays attention to the needs of present and future patrons. Based on the programming needs, we are defining space allocation to enhance the visitor experience," said Nicole Herden, executive director of MONA.
Proposed plans include:
A modern gallery experience with new ways to increase the connection of the observer to the works of art;
A community studio that functions as a makerspace, stocked with supplies and tools for all visitors during open hours;
An enlarged outdoor sculpture garden with added green space for the enjoyment of citizens;
Community space both in and around the exterior museum for public gathering and enjoyment; inside event space to have ample storage and kitchen for group gatherings, accommodating up to 275 people;
New amenities including a café/coffee bar;
New spaces designed for flexibility to host large programs, performances, lectures, events and special activities.
"The need to expand, restore and renovate our current facility to meet future needs has been evident for more than a decade and was formally recognized in the MONA strategic plan 2015-2020," said Hadley. "The strategic plan provided the impetus for an Expansion and Restoration/Renovation Project that has been under study for the past four years."
MONA is housed in a 1911 former post office building that was purchased in 1986 and renovated twice, with the last renovation in 1993. The 1911 Neoclassical building is on the National Register of Historic Places. The plan is to restore and renovate MONA's 25,000 square feet and construct a 16,000-square-foot expansion.
A feasibility study was completed in 2018 by fundraising consulting firm Ter Molen Watkins & Brandt. The fundraising consulting firm recommended that the MONA board move forward with planning a capital campaign to raise $20 million for expansion and restoration/renovation and to create a $5 million operating endowment. The MONA board of directors agreed with the recommendation and is in the early stages of fundraising.
Beginning in June 2019, museum leadership began working with Jon Maass, a New York-based architect, project director and owner's representative, to undertake a comprehensive space programming process, researching and defining needs for a rejuvenated facility. Then in June 2020, it began working with Mark Bacon, AIA, and his Lincoln-based BVH Architecture team members who have created a conceptual design and are creating a more detailed schematic design based on the programming plan for the museum.
"We appreciate our partnership with the University of Nebraska at Kearney. We are grateful to several UNK professors who years ago were among the museum founders who established a system to collect artwork across Nebraska, which was the start of MONA," said Hadley. "We thank our statewide board of directors who govern the museum in collaboration with the University of Nebraska at Kearney."
The initial collection was about 30 artworks, which has grown to a permanent collection of more than 5,000 pieces. From works created by indigenous peoples of Nebraska more than 200 years ago to contemporary works, the expansion will allow visitors to experience its permanent collection in new ways. MONA's signature ARTreach program brings traveling exhibits to various communities throughout Nebraska. The expansion of the museum will enable this crucial program to grow and enhance its ability to share the Nebraska Art Collection even more broadly.
"This is an exciting opportunity for the community and the state, and for the University of Nebraska at Kearney," Chancellor Doug Kristensen said. "MONA is a treasure and its impact will be increased through this visionary project, which is being boldly led by the board and Nicole. More than ever, arts are being celebrated, and the state, region, country and the world will have greater opportunity to more fully engage with the art of Nebraska through this project."
About the Museum of Nebraska Art:
Opened in 1986, The Museum of Nebraska Art (MONA) houses the official art collection of the state of Nebraska, which includes more than 5,000 pieces from Nebraska artists. MONA celebrates the history of Nebraska's visual art for diverse audiences. It collects, preserves, researches, exhibits and interprets the work of artists who were born, lived, trained, or worked in Nebraska or who created artworks that reflect the state's culture. With a total collection of more than 5,000 works, MONA endeavors to be the cultural center for Nebraska art and artists by providing quality exhibitions and programs, expanding its collection and facilities and preserving its historic building. The museum is governed by a statewide board of directors in collaboration with the University of Nebraska at Kearney.
---
The Museum of Nebraska Art receives Humanities Nebraska CARES Act Grant
Funding for these grants is being provided by the National Endowment for the Humanities (NEH) as part of the Coronavirus Aid, Relief and Economic Security (CARES) Act economic stabilization plan. Humanities Nebraska (HN) was allocated $435,600 in CARES Act funding and is re-granting 100% of these funds to cultural and educational organizations throughout Nebraska that are engaged in public humanities programming. These CARES Act emergency funds are providing critical assistance to Nebraska non-profit organizations in need of general operating support in order to continue humanities activities during the COVID-19 crisis.
"On behalf of the MONA Board of Directors," said MONA Executive Director Nicole Herden, "I want to express our sincere gratitude for the valuable support of the NEH and HN during this challenging economic time. We also want to thank our Congressional and Senatorial representatives for their foresight in funding the CARES Act, as the arts and humanities nourish people's minds and spirits during difficult periods, helping them stay connected to each other."
To qualify for CARES Act funding, organizations must have demonstrated that a commitment to public humanities is a significant component of their mission. The NEH defines the humanities as including (but not limited to) history, literature, languages, jurisprudence, philosophy, comparative religion, archaeology, ethics, theory, criticism of the arts, and the social sciences when they employ humanistic perspectives. Organizations eligible for CARES ACT grants include: non-profits with 501(c) status, public institutions of higher education, state and local government agencies, and federally recognized Native American tribal governments.
---
The Museum of Nebraska Art announces Nicole Herden of Boise, Idaho, as its new Executive Director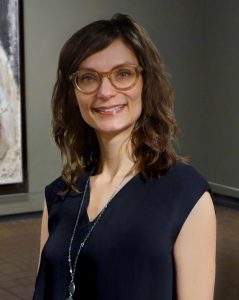 Herden has managed curatorial and museum facilities projects for more than 10 years, including the past four as curator of art at Boise Art Museum, where she developed over a dozen exhibitions annually while expanding the permanent collection by nearly 500 works of art. She also served two years as registrar at BAM, which houses more than 4,000 objects.
"The mission of MONA and its phenomenal collection is an ideal fit with my background," Herden said. "The historical and contemporary focus is of interest to me. A lot of things at MONA align with my scholarly interests as well as the professional museum work I've dedicated my career to.
"I'm excited about the museum's relationship with UNK and all of the perspectives university faculty, students and staff can bring to MONA."Herden was hired after a national search and replaces Audrey Kauders, who retired in June 2019 after 17 years at MONA. Marilyn Hadley, who served as interim director since July 1, will continue in that position until Herden's March 30 start date.
"We are thrilled to hire someone with Nicole's expertise, background and enthusiasm," said Hadley, who was on the search committee and is current MONA board president. "Her background includes working in a museum with strong university relationships. She is someone who will take us to the next level with new ideas and different approaches, which the board welcomes."
MONA opened in 1986 in Kearney and houses the official art collection of the state of Nebraska, which includes more than 5,000 pieces. The museum is governed by a statewide board of directors in collaboration with the University of Nebraska at Kearney. It collects, preserves, researches, exhibits and interprets the work of artists who were born, lived, trained or worked in Nebraska, or those who created artworks that reflect the culture of Nebraska.
"MONA is poised to develop deeper relationships across the state, have more community participation and share its American story," Herden said. "I would like to expand artist advocacy and access of the permanent collection across the country. An immediate goal is to market the collection and showcase the treasure that it is."
Herden's career path includes work as curatorial assistant of American and Western American Art at Phoenix Art Museum and curatorial assistant of Contemporary Art at Arizona State University Art Museum. She also worked as an adjunct art professor and graduate teaching assistant at Boise State University, as well as a high school teacher in Arizona at Apache Junction School District.
Her professional affiliations include the American Alliance of Museums, Association of Art Museum Curators and College Art Association, among others. Herden has master's degrees in art history and visual arts from Arizona State University and Boise State University, respectively, and a bachelor's degree in art education from the University of Arizona.
"Nicole has great experience and expertise with art museums, and her ability to connect and build relationships within the art community really stood out," said Bob Culver, co-chair of the search committee. "She has a grasp of what MONA's collection is all about and our specific mission of supporting Nebraska art and artists."
By TODD GOTTULA – UNK Communications