The year 2017 marks Nebraska's 150th anniversary of statehood. The Museum of Nebraska Art (MONA) is uniquely positioned to observe this milestone, since MONA's mission is to showcase the art and cultural history of the state. The Museum is proud to feature, through a series of exhibitions, its permanent collection in a visual festival of Nebraska art in honor of Nebraska's Sesquicentennial.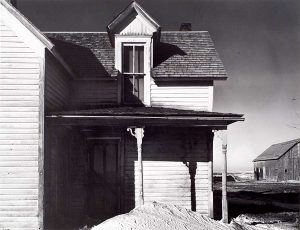 August 22, 2017 – February 25, 2018
Nebraska native son Wright Morris (1910-1998) is represented at MONA with 131 black and white photographs, likely the largest collection in a public institution. During a cross-country car trip in 1938, he became enthralled with the visual beauty of the Nebraska landscape and rural life that he remembered from his youth. He bought a camera and began to document the mid-century structures and artifacts of rural America.