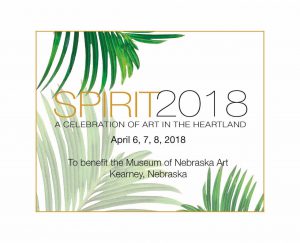 A weekend of Spirited events featuring the work of Nebraska's finest artists. The celebration offers Patron Package festivities, Gala Dinner and Art Auction, and closes with Good Morning MONA, truly unique opportunities to come together to celebrate the art of Nebraska in a very special way.
You are cordially invited to join us for an art auction and gala event!
PATRON WEEKEND • April 6, 7, 8, 2018 – $300 per person
PATRON PARTY  • Friday, April 6
7:00 p.m. • Buffet Reception • Auction Preview and Sale with the Artists • cocktail attire, MONA
Further Patron events for Saturday to be announced
GALA DINNER & ART AUCTION ONLY • Saturday, April 7 – $150 per person
5:30 p.m. • Cocktails, Hors d'oeuvres, Silent Auction & Buy It Now
7:15 p.m. • Silent Auction closes, followed by Gala Dinner
8:30 p.m. • Live Art Auction
Cocktail attire • MONA
Tables for 10 available for purchase – $1,500
GOOD MORNING MONA • Sunday, April 8 – FREE to all Spirit Guests and public
9:00 a.m.-1:00 p.m. • Pastries, Coffee • Your last chance to buy artwork! • casual attire, MONA
Those who are traveling and plan to stay overnight in Kearney are encouraged to call either of the following hotels and mention MONA for a special rate:
Country Inn and Suites – (308) 236-7500 • Holiday Inn – (308) 237-5971
Co-CHAIRS
Jayne & Mark Meyer, Kearney
Reven & John Wright, Kearney
---
View the Art and Artist list for Spirit 2018
Thank You to the following for their generous support of Spirit . . .
PATRON
Kitty M. Perkins Foundation, Cambridge
The Kitty M. Perkins Foundation is a not for profit foundation established by Kitty M. Perkins, a native of southwest Nebraska who, along with her husband, Edwin E. Perkins, was instrumental in the creation and success of the Kook-Aid soft drink. The Kitty M. Perkins Foundation has a history of giving to health, education and civic related projects mainly in Nebraska.
BENEFACTOR
Edward Jones
SUSTAINER
Farmers & Merchants Bank
Sandhills State Bank