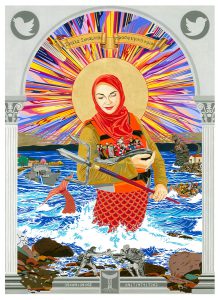 January 13 – April 1, 2018
Jave Yoshimoto creates work that focuses on natural, man-made, or imaginary disasters and, in doing so, brings to light a "social amnesia" found in contemporary culture. Yoshimoto, born in Japan to Chinese parents, migrated to California at an early age. This cross-cultural background fundamentally informs his work and provides a broad world-view for him to draw upon. Yoshimoto is an Assistant Professor of Art in the College of Communication, Fine Arts and Media at the University of Nebraska at Omaha.
Artist Talk and Reception: Sat, Jan 13 • 1:30 p.m.
2018 Nebraska Now exhibitions are sponsored by Deanna & Fred Bosselman.