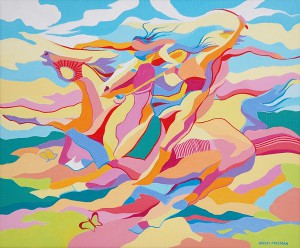 November 17, 2015 – March 6, 2016 –

The Heritage Center represents the rich traditions of Native Americans through its collection showcasing the creativity and skill of the Lakota people from the 19th century to the present and the work of other Native artists from the last four decades. Begun in 1969 with three pieces purchased from the Red Cloud Indian Art Show, today the collection has grown to nearly 10,000 artworks. This exhibition, organized by The Heritage Center, is an overview of the collection and a window into the history of one of the earliest cultural centers and museums located on an Indian reservation in the United States.
Collection Connection Talk: February 24, 2016 • 2:00 p.m.