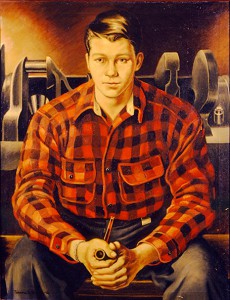 July 6 – October 21, 2012 —
Terence R. Duren (1904 – 1968) was a leading Nebraska artist during the mid 20th century. He lived most of his life in Shelby, Nebraska, and is most widely known for his regionalist works which drew on his rural Nebraska upbringing.
This Spotlight exhibition features art from all periods of Duren's interesting career, several of which have been loaned from area collectors. One borrowed work is likely the earliest piece, done when the artist was sixteen years old. A diary of Duren's travels abroad is opened to the day in 1935 when he was at Versailles and displayed with his painting of this grand French chateau.
Duren began to paint when he was stricken with polio at age six. To occupy their bedridden son, his parents gave him crayons and a tablet. In an interview shortly before his death, Duren said he realized then that he would be an artist.
After graduation from high school, he went on to study art at The Art Institute of Chicago, the École des Beaux Arts in Fountainebleau, France, and the Kunstgewerbe Schule in Vienna, Austria. During the 1930s, Duren taught at The Art Institute of Chicago, the Cleveland Institute of Art, and at Western Reserve University, Cleveland. At the start of World War II, he returned to Shelby, but continued to exhibit work in major art centers around the country.
Duren's career and reputation reached a zenith in 1944 when one of his paintings was chosen for Portrait of America, an exhibition which opened at the Metropolitan Museum of Art in New York and toured to eight museums across the country.
Among his other projects, Duren designed sets for an opera company in Cleveland, as well as the sets and costumes for a marionette production of "Peer Gynt" at the New York World's Fair (1939-1940). He was a prolific illustrator whose work regularly appeared on the cover of the &ldquoMagazine of the Midlands,&rdquo the Sunday supplement of the Omaha World-Herald.
Viewing this exhibition, it becomes apparent that small town Shelby, Nebraska did not stifle Terence Duren's imagination of exotic places.