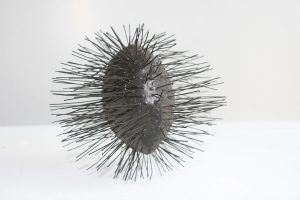 May 26 – September 9, 2018
Reinhold Marxhausen was a nationally regarded multi-faceted artist and highly lauded Professor of Art at Concordia University in Seward, Nebraska for 40 years. While he worked in photography, mosaic, painting, sculpture, and found-object art, it was his sound art that brought him national acclaim. In collaboration with Concordia University, this exhibition explores his extensive body of work, his long career, his influence as an educator, and his continuous fascination with the idea of creative thought.
Related Event:
COLLECTION CONNECTION
James Bockelman: Reinhold Marxhausen
Wednesday, July 25 • 2:00 p.m.
James Bockelman talks about the artwork and creative attitude of Nebraska artist and educator Reinhold Marxhausen. Marked by a spirit of restless curiosity and a zeal for the common person, Marxhausen reminds us that we live in a readymade world that is just waiting to be rediscovered anew each day.
Bockelman earned a Master of Fine Arts degree in painting from the University of Nebraska-Lincoln in 1997. He is a Professor of Art at Concordia University, Nebraska where he teaches painting and is curator of the Marxhausen Gallery of Art.