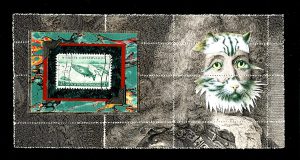 April 14 – July 22, 2018
Kearney, Nebraska native Chuck Welch, aka CrackerJack Kid, remembers the daily anticipation of going to the mail box for the surprises it would contain. In the 1970s, Welch became interested in Mail Art (an art movement based on sending small-scale works through the postal service) after seeing an exhibition at Joslyn Art Museum in Omaha, and he has been actively participating in mail art for over three decades. Welch has published two significant books about mail art: Networking Currents (1986) and Eternal Network: A Mail Art Anthology (1995).
Reception:
Sunday, April 22, 2018 • 1:00-3:00 p.m.