January 14 – April 8, 2012 —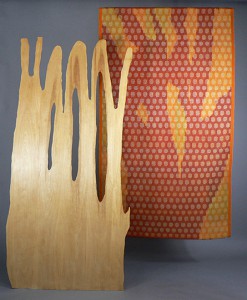 Through the creation and combination of sound, ikat weaving, and discarded hollow door sculpture, Wendy Weiss and Jay Kreimer transform and fill the Museum of Nebraska Art's Yanney Skylight Gallery with their large-scale installation entitled Against the Sky that explores the Nebraska landscape. In their first exhibition at MONA, the artists, each with their distinct medium, examine the non-native trees of the Great American Prairie, the resilience of nature, and what our relationship is to the land.
Working collaboratively, Against the Sky is a complete and interactive environment that is responsive as well as reflective. Kreimer, an artist who specializes in interactive sculpture and multi-media works, has devised an auditory system for the gallery that, when triggered by sound, responds with the voices that are found in and around the grasslands and rivers of the Midwest. A feeling of being along the fields of the Prairie or the Platte River is created: when the faintest noise is made, depending on pitch and tenor, the response is a diverse and organic harmony of bird calls, cries, and song. The ikat weavings of Weiss, Professor of Textiles, Clothing, and Design at the University of Nebraska-Lincoln, provide layers of texture, softness, color, imagery, and structure within the reverberating atmosphere and alongside the hollow door sculptures of Kreimer. Weiss, with the intensity and careful planning needed to execute the centuries-old tradition of ikat, has woven the image of a tree into her fiber works. Constructed from organic and inorganic materials (wool, nylon, and cotton resist dyed with madder root and cosmos flowers), by their creation alone, the free-hanging weavings juxtapose the relationship between man and nature. The same can be said for the sculptures of Kreimer: constructed of discarded hollow core doors that the artist salvaged, they are shaped into tree forms that parallel those found in Weiss' weavings. The forms have an irony in that they were manipulated by mass means but have retained the beautiful texture (the grain and knots) of a tree. The atmosphere created by Weiss and Kreimer in Against the Sky question our relationship to our natural surroundings and the impact we make upon it.
When Weiss first lived in Nebraska, she took a trip across the state of South Dakota on a "missile watch." It was then that she "saw that we had nuclear missiles buried in our landscape." This had a "powerful effect" on her, on how she "looked at the landscape." Kreimer had salvaged a hollow core door over 15 years ago – a natural object altered by man for utilitarian reasons – and questioned what to do with it. After holding the object for a time and realizing it had acoustic qualities, he "thought it might sound good" and created an instrument. Both artists looked at nature that was obscurely and obviously altered by man and noted its "resilience." The exhibition further explores this notion and provokes a conversation with the viewer through the examination of trees that were planted here years ago and that now remain. As the artists state, "We harvest, build, and discard the products of trees with casual overconfidence …. Resilient nature responds. With Against the Sky, we respond to resilient nature."
Wendy Weiss and Jay Kreimer have collaborated on previous projects such as Ephemeral Forest, Traveler's Field, and Landscape with Floating Biology. In addition, each artist works independently. Kreimer focuses on performance, sculpture, and sound and Weiss specializes in textiles. In addition to having taught at the University of Nebraska-Lincoln since 1986, she is the Director of the Robert Hillestad Textiles Gallery on the campus. Her work has been exhibited extensively throughout the United States and worldwide. In 2009, Weiss traveled to India on a Fulbright scholarship to document and study ikat under master weavers near Vadodara, Gujarat, India. Kreimer is an adjunct professor at Doane College in Lincoln where he teaches writing, creative problem solving, arts issues, and leadership. He has performed across Europe, including Dublin, Cork, London, Glasgow, Berlin, Amsterdam, and Paris, and played at D-22 in Beijing. He presented an interactive talk and performance at the 2008 International Society for Improvised Music Conference in Denver, and also in Santa Cruz. In collaboration with Wendy Weiss, he has shown sound and sculptural work in Beijing, San Francisco, Vancouver (Canada), New York, Washington, D.C., and showed a major installation in Kansas City and Tulsa. He spent the winter of 2009 in Vadodara, India, rewiring neuromuscular circuits by studying tabla, an Indian percussion instrument. Kreimer is a member of two musical groups, "The Mighty Vitamins" and "Seeded Plain." The couple resides in Lincoln, Nebraska.