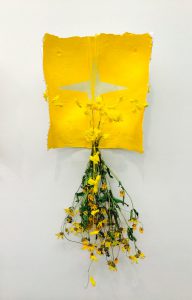 October 7, 2017 – January 7, 2018
Omaha artist Sarah Rowe "addresses issues of self-identity and exploitation of natural resources" within her artwork. By merging paintings, castings, fiber, sculpture, and performance along with Native American ritual, Rowe, of Lakota and Ponca descent, opens "meaningful cross cultural dialogues" with her large-scale installations.
Artist Talk and Reception: Saturday, October 7  • 1:30 p.m.
2017 Nebraska Now exhibitions are sponsored by Deanna & Fred Bosselman.