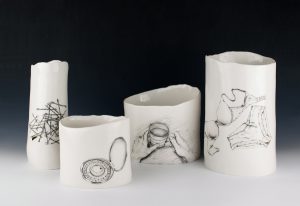 July 8 – October 1, 2017
South Carolina native and University of Nebraska at Kearney Assistant Professor of Art Mallory Wetherell unflinchingly uses her body as subject in her most recent drawings and ceramics. Wetherell's work compels viewers to consider the female form: wives, mothers, sisters, friends, companions, or self in light of contemporary societal expectations.
2017 Nebraska Now exhibitions are sponsored by Deanna & Fred Bosselman.