April 7 – July 1, 2018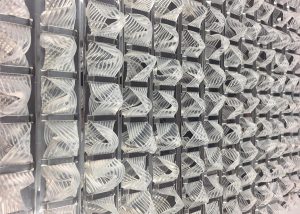 While retaining the inherent nature of prefabricated, synthetic, industrial, and everyday materials, Angie Seykora creates objects, installations, and "paintings" that revel in the idea of possibility, and focus on form and texture. Her work speaks of our quickly advancing industrialized world and how that intersects with humanity and a search for beauty. Seykora teaches in the Department of Fine and Performing Arts at Omaha's Creighton University.
Artist Talk and Reception: Sat, Apr 21 • 1:30 p.m.
2018 Nebraska Now exhibitions are sponsored by Deanna & Fred Bosselman.