The year 2017 marks Nebraska's 150th anniversary of statehood. The Museum of Nebraska Art (MONA) is uniquely positioned to observe this milestone, since MONA's mission is to showcase the art and cultural history of the state. The Museum is proud to feature, through a series of exhibitions, its permanent collection in a visual festival of Nebraska art in honor of Nebraska's Sesquicentennial.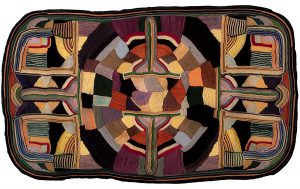 July 21 – February 25, 2018
Self-taught artist Jean Thiessen (1876-1960) created captivating on-edge felt mosaics in the early part of the 20th century. MONA is fortunate to have seven of her works, acquired from her son's estate who himself was a prolific artist and an early leader of the Museum. These unique and amazing creations exhibit rich coloration and a linear design, examples of an artist in full control of her medium.