The year 2017 marks Nebraska's 150th anniversary of statehood. The Museum of Nebraska Art (MONA) is uniquely positioned to observe this milestone, since MONA's mission is to showcase the art and cultural history of the state. The Museum is proud to feature, through a series of exhibitions, its permanent collection in a visual festival of Nebraska art in honor of Nebraska's Sesquicentennial.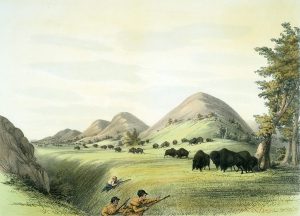 August 22, 2017 – February 25, 2018
This portfolio of 33 lithographs by George Catlin (1796-1872) is an important part of MONA's Artist-Explorers collection. After seeing a Plains Indian delegation on its way to Washington, D.C. in 1824, Catlin was inspired to dedicate his life to recording the disappearing customs and culture of Native Americans, traveling to the West to paint his subjects on their native land. In 1844, he produced a series of lithographs from the hundreds of paintings he had created.