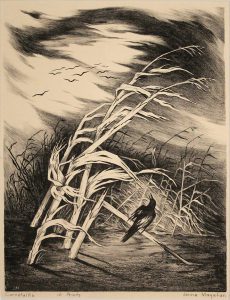 1916, Chicago, Illinois – 1952, Albany, New York
(Jenne Magafan Chavez)
Achieving national renown as a mural and easel painter, Jenne Magafan spent the early part of her life in Colorado. However, in the 1930s, she was in northeast Nebraska where she created a post office mural for the town of Albion. Jenne was then living in Denver with her parents and twin sister, Ethel, who, like Jenne, was receiving much attention for her artistic abilities and also becoming involved in a mural project in Nebraska.
The Magafan sisters were born in Chicago in 1916 to Julia Bronik Magafan, of Polish ancestry, and Petros (Peter) Magafan, a Greek who had immigrated to Illinois. Due to his health, the family relocated shortly after the birth of the girls to Colorado, first to Colorado Springs and then to Denver. Petros Magafan "was unusual in that he encouraged his daughters' interest in art." (Smith 280) He also had a strong attachment to the western landscape of Colorado because it reminded him of his home village in Greece. By the time the twins were teenagers, they were entering art exhibitions. Jenne, at age 18, began entering exhibitions at the Denver Art Museum in 1934 and continuing in 1935 and 1938 to 1942.
Jenne and Ethel were both dedicated to making fine art their life-long professional commitment, but making a living in the 1930s was a big challenge because it was the depth of a severe economic depression. However, a lifeline for the Magafans and several hundred other artists came from the federal government's programs to combine community improvement with paid work. The program in which Jenne and Ethel were involved was the Treasury Relief Art Project (TRAP). It employed designers and laborers and resulted in 300 new community post office buildings. After their completion, the Treasury Section of Painting and Sculpture oversaw their ornamentation and held competitions among artists for designs. Jenne received the one for Albion, Nebraska and Ethel for Auburn, Nebraska.
To prepare her initial proposal, Jenne traveled to Albion, and then submitted two designs, one of pioneers building a sod house and another of a winter landscape. The winter scene was chosen and Jenne then submitted for review a two-inch scale color sketch. After minor adjustments, she was authorized to proceed, but with the caution to check her "drawing of the hind quarters of the second cow to the left. The leg seems somehow heavy in the middle." (Puschendorf 38)
Making that adjustment, however, was a minor concern for Jenne compared to the overall challenge of 'her' post office since it was "one of the smallest and most modest of the Nebraska structures." (Puschendorf 38) She had some experience from previously working on a public building mural project in Colorado Springs, but the interior of the Albion structure was much smaller. Also, she and the other post office muralists were constrained by federal specifications that mural colors needed to harmonize with other decorations in the building; that a sense of three dimensions on a flat surface should be conveyed; and that murals should not visually conflict with the large standardized globe lights hung from the ceiling.
After completion of her mural, Jenne received the last of several payments for a total of $670. Titled Winter in Nebraska, the mural is an agricultural scene of a farmer and his cattle driven by blizzard conditions towards shelter in a barn, which is nearly buried by snow. Dominant hues of gray in sweeping horizontal lines suggest wind and cold and the need for warmth. A house is in the distance, blustery clouds fill the sky, and wind-bent barren branches inject more images of 'winter.'
The mural was installed in 1936 with Jenne present as well as her future husband, artist Edward Chavez, and her sister Ethel Magafan. Apparently the work was well received as Jenne later referred to her pleasure with a "very swell trip to Nebraska" and to local people "who were terribly interested and enthusiastic with the idea of having a mural in their town. There was also the feeling that it was a great privilege that Washington should choose to give them a mural." (Puschendorf 38) Administrators of the project indicated their pleasure with Jenne's work by submitting her initial mural design sketch as part of an exhibition of mural studies at the Corcoran Gallery of Art in Washington, D.C.
From 1936 to 1938, after the Magafan sisters had completed their Nebraska murals, they attended the Colorado Springs Fine Arts Center thanks to Jenne who initially paid for both tuitions from a $90 Carter Memorial Art Scholarship she had received. However, the money covered only two months of classes, but instructor Frank Mechau, determined that these two talented women should remain in school, hired them both as paid assistants. With his skills as a muralist, focus on regional subjects, and modernist style, he had a lasting influence on Jenne and Ethel, as did instructors Boardman Robinson and Peppino Mangravite. The Fine Arts Center also continued to support the Magafans by entering their work in exhibitions in 1938, 1940, and 1941.
Jenne won a total of seven mural commissions and, as a realist depicting subjects familiar to local people, she was much lauded as one of the leading American Scene painters of that era. In addition to Nebraska, her mural projects included Denver High School; the Social Security Building in Washington, D.C. with Ethel; Beverly Hills Hotel; Glenwood Springs (Colorado) Post Office with Edward Chavez; post offices in Anson, Texas and Helper, Utah; and a high school in Worcester, Massachusetts.
She also had an active exhibition history including in 1940 and 1942 at the Kansas City Art Institute; San Francisco Museum of Modern Art, 1941, 1944, and 1946; and 1941 at Carnegie Institute in Pittsburgh, Pennsylvania; Boston Museum of Modern Art; and The Art Institute of Chicago. In 1942, her work was again exhibited at The Art Institute, and also at the Metropolitan Museum of Art and Museum of Modern Art, both in New York City, and the National Gallery of Art in Washington, D.C. That same year she received the Peixotto Memorial Prize for excellence in mural painting, named in memory of American muralist Ernest Peixotto.
After government support of murals tapered off in the early 1940s, Jenne went to California with Ethel. They shared a studio and, choosing to be non-competitive with each other, had joint exhibitions including some of the above-mentioned venues, and at the Los Angeles County Museum of Art. This approach "strengthened the pair's bond, yet allowed them to maintain their own artistic styles." (Sullivan Goss)
Encouraged by California artist-friends Doris Lee and Arnold Blanch, Jenne and Ethel moved to the art colony of Woodstock, New York in 1945. For the first time, the sisters did not live together nor share studio space. Jenne married her long-time companion Edward Chavez, a highly touted mural painter who had been her high school classmate in Denver and, with her and Ethel, had worked on murals with Frank Mechau. Ethel married Bruce Currie, an Iowa-born modernist painter. As a foursome, they were very close friends and became quite prominent in Woodstock. Ray Steiner, a New York art writer who spent time at Woodstock as a child, arrived at the same time as what he described as "the Magafan and Currie Clan." He recalled the sisters and their husbands as "being part of the old guard of the colony of being a clan ‒ a special group of people who shared not only a love of art, but also a love of nature." Although they "fed each others' visions," Steiner wrote that it was "clearly the case that each of these artists held fast to their own individual aesthetics."
In 1951,"all four went to Europe, Ethel having received a Fulbright Award for the study of Byzantine and Grecian art, and Edward, holding a Fulbright to paint in Italy." (Smith 280) It was a happy year of travel, including a trip by Jenne from Italy to visit her sister in Greece. "During that year in Italy, Jenne completed many powerful paintings of the structures and people inspired by that environment." (Currie) In 1952, the couples returned to the States, and less than a week after their return, Jenne died in an Albany, New York hospital of a cerebral hemorrhage. Ethel was devastated, apparently a tragedy from which she never recovered. She named her only child, a daughter born four years later, Jenne Magafan Currie, and from that time, her paintings were more abstract and emotion driven.
In 1953, the Woodstock Artists Association and Ganzo Galleries of New York held memorial exhibitions in honor of Jenne Magafan, and in the summer of 2006, the Woodstock Artists Association and Museum held an exhibition titled The Magafan and Currie Clan: A Family of Artists. The exhibition was solely one of paintings and works on paper by Jenne Magafan, Ethel Magafan, Bruce Currie, and paintings and sculpture by Jenne M. Currie.
Solo Exhibitions of Jenne Magafan:
1934, 1935, 1938 to 1942 – Denver Art Museum, Colorado
1940 – Contemporary Arts, New York City
1940 – Utah Arts Center, Salt Lake City
1944 – Santa Barbara Museum of Art, California
1944 – Raymond & Raymond Gallery, Los Angeles, California
1944 – Scripps College, Claremont, California
1949 – Tiffany Foundation Fellowship
1950 – Tiffany Foundation Fellowship, renewed
1950 – Ganzo Gallery, New York City
1952 – Woodstock Artists Association, New York, Memorial Exhibition
1954 – Albany Institute of History and Art, New York, Memorial Exhibition
1975 – Long Island University, New York, Retrospective Exhibition
1975 – Ulster County Community College, Stone Ridge, New York, Retrospective Exhibition
1976 – Rome Art and Community Center, New York, Retrospective Exhibition
The Museum of Nebraska Art has one work by Jenne Magafan, a lithograph titled Cornstalks.
Sources:
Ancestry.com, Sep. 2016
askART.com, David Cook Galleries, Biography on Edward Chavez, Sep. 2016
askART.com, Rubenstein, Charlotte, "American Women Artists," Biography on Jenne Magafan. Oct. 2016
askART.com, Steiner, Ray, Biography on Bruce Currie, Sep. 2016
askART.com, Sullivan-Goss, Biography on Jenne Magafan, Sep. 2016
Bach, Cile M., Frank Mechau-Artist of Colorado, pp. 20, 68, Print
Currie, Jenne Magafan, niece of Jenne Magafan and daughter of Ethel Magafan and Bruce Currie. In an email of December 16, 2016 to Lonnie Dunbier, she provided both additional and clarifying information for the Jenne Magafan biography including the list of solo exhibitions.
Falk, Peter Hastings, Editor, Who Was Who in American Art, Print
Kovinick, Phil and Marian Yoshiki-Kovinick, An Encyclopedia of Women Artists of the American West, pp. 200-201, Print
Museum of Nebraska Art files: image and record of Cornstalks lithograph (edition of 10)
Puschendorf, L. Robert, Nebraska's Post Office Murals, pp. 12-14, 33-39, Print
Smith, Anita M., Woodstock History and Hearsay, p. 280, Print
Trenton, Patricia, Independent Spirits, pp. 230-233, Print
Researched, written, and copyrighted by Lonnie Pierson Dunbier
Museum of Nebraska Art Project:
Their Place, Their Time: Women Artists in Nebraska, 1825-1945