April 7 – July 19, 2015 —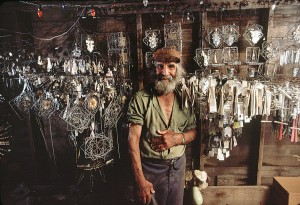 On his family farm outside of Stapleton, Nebraska, Emery Blagdon created a remarkable work known as the "Healing Machine." Beginning in the late 1950s and continuing until his death in 1986, Blagdon artfully composed the wondrous "Machine" using bits of wire, beads, foil, paper, and other everyday materials for the sole purpose of generating natural energy to cure ailments, as he believed. This exhibition is comprised of selected pieces from the "Healing Machine" on loan from private collectors it will also feature MONA's recent Blagdon acquisition, the only work by the artist found in a Nebraska public collection.
View the NET Television documentary "Emery Blagdon & His Healing Machine" in its entirety in MONA's Northeast Gallery every Wednesday and Saturday at 1:00 p.m.