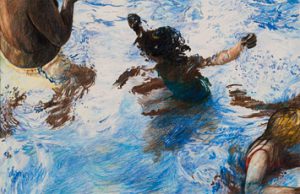 August 26, 2016 – January 29, 2017
Narrative art through images evokes the power of the imagination, providing limitless opportunities for sensory, emotional, and personal interpretation, so viewers can discover their own unique story. For the annual series of exhibitions in the Postmaster Gallery, 2016 features Every Picture Tells a Story with three subjects in turn – people, places, and play.
The third exhibition in the series, Play explores participation, our desire to perform, and skylarking escapades!