See…art representing the work of artist-explorers like George Catlin; early Nebraskans Robert Henri and J. Laurie Wallace; modern era artists Grant Reynard and John Falter, and artists of today. MONA also displays a collection of works by John James Audubon focusing on indigenous Nebraska wildlife. The permanent collection contains over 6,000 works by artists of regional, national, and international importance. MONA is housed in a 1911 NeoClassical building listed on the National Register of Historic Places.
Explore…the art of Nebraska! MONA has been home of the state's official art collection since 1979. You'll see Nebraska in a whole new way in eleven galleries. Visitors may also relax and stroll outside through the Cliff Hillegass Sculpture Garden, and visit our Hitchcock Education Gallery.
Anne Thorne Weaver Museum Shop…features an array of unique items including one-of-a-kind jewelry, children's sections, original artworks as well as cards and books celebrating art, creativity, and life in Nebraska. Open during public hours. The Anne Thorne Weaver Museum Shop accepts Visa, MasterCard, checks, and cash.
Hours:
Regular Hours
Tuesday to Saturday: 10:00 a.m. – 5:00 p.m.
Sundays: noon – 5:00 p.m.
Closed Mondays and major holidays
Free Admission
The Museum of Nebraska Art (MONA) celebrates Nebraska's artistic culture and heritage by collecting and preserving, exhibiting and interpreting the art of Nebraska. For more information, call (308) 865-8559 or write.
Directions:
MONA is located at 2401 Central Ave, Kearney, Nebraska near the southeast corner of the Highway 30 and Central Avenue intersection. Park for free in the lot just north of the museum building. View location in Google Maps.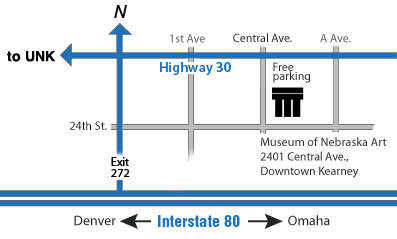 Virtual Tour:
Accessibility:
The Museum of Nebraska Art welcomes everyone to MONA. To ensure that the widest range of people enjoy, learn from, and are inspired by visits to the Museum, MONA supports full access to museum spaces, exhibitions, and programs for visitors of all ages and abilities.
Handicap parking is available on the north side of MONA, near both the Main and East entrances.
A ramp to the 1st floor of MONA is located at the East Entrance, accessed through the Cliff Hillegass Sculpture Garden.
All galleries and facilities are wheelchair accessible. Motorized wheelchairs and scooters are welcome as are people with walkers or strollers, or service animals.
A wheelchair is available for visitor use.
Handicap accessible bathrooms are located on the lower and 2nd levels.
An elevator services MONA's three levels.
For more information or to notify MONA of any special needs, please contact the Museum at (308) 865-5889.