History-Fourth Grade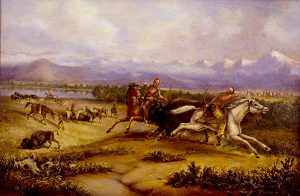 Lesson Overview:
Students will complete a unit on Nebraska Indians as a part of the Nebraska history curriculum. Students will learn about the Nebraska Native American culture and way of life.
Lesson Objectives:
Students will gain an understanding of Native American life and how it was important in the history of Nebraska.
Students will learn about Native American tribes specific to Nebraska's history and study the nomadic and farming lifestyles of these Native Americans.
Students will recognize the rich cultural aspects and traditions that the Native Americans contributed to Nebraska's history.
Students will become familiar with well-known Native American chiefs in Nebraska and understand their part in Nebraska's history.
---
Instructional Procedures/Sequence:
Read and discuss Chapter Four in The Nebraska Adventure textbook.
In paired groups, read a trade book on the tribes of Nebraska, complete a summary of the book, and present the summary to classmates.
Activity Centers – Make parfleches (see website below), quivers, pemmican, and sacred bundles. (Directions included at end of lesson) lbrummer68739.net/3rd-grade/american-indian-parfleche/
Learn how tipis and earth lodges were constructed at nebraskastudies.org and compare and contrast the two types of homes by completing a Venn diagram.
---
Vocabulary:
Native American
nomadic
pemmican
travois
tribe
earth lodge
Nebraska Tribes:
Omaha
Pawnee
Lakota Sioux
Chiefs:
Big Elk
Blackbird
Red Cloud
Crazy Horse
Spotted Tail
Sitting Bull
---
Materials Needed:
Venn diagram graphic organizer
center activity sheets and supplies
library books on Nebraska Native American tribes and accompanying summary sheets
Reaction paper rubric to evaluate students understanding of MONA lesson as it relates to the elements presented.
---
Standards Addressed:
1.2By the end of fourth grade, students will describe the contributions from the cultural and ethnic groups that made up our National Heritage: Native Americans, Hispanic Americans, African Americans, European Americans, and Asian Americans.
1.5By the end of fourth grade, students will describe the interaction between Native Americans and their environment on the plains prior to European contact.
1.6By the end of fourth grade, students will identify significant individuals, historical events, and symbols in their community and in Nebraska and explain their importance.
1.7By the end of fourth grade, students will use higher-level thinking processes to evaluate and analyze primary sources and other resources (i.e., artwork, letters, pictures, etc.).
---
Accommodations/Modifications:
Teacher will determine necessary modifications needed for individual students. Modifications may include reading and writing assistance, as well as a modified assessment.
Methods of Assessment:
Teachers will evaluate students' Venn diagram of tipis and earth lodges.
A 4 pt. rubric will be used to assess summary of library books and activity center projects.
From examples of artwork, students will describe both verbally and in writing the significance of the artwork and what they learned from each piece.
---
More Lesson Plans
Understanding the Basic Groups of Animals, Science – Second grade
Life as a Nebraska Pioneer – Collage Art, Third & Fourth grade
Fundamentals of Design through Art, Family Consumer Science – Secondary level