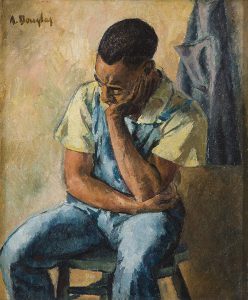 April 9 – July 14, 2019
Launching its mobile app in 2017, the Museum of Nebraska Art (MONA) continues to add content. Viewers browse through highlights from MONA's permanent collection, listen to audio commentary, peruse a guide on how to look at art, and take a MONA quiz. This exhibition features the second selection of works for the MONA app – significant collection pieces including those by artists Kent Bellows, Aaron Douglas, Gertrude Kasebier, and Ed Ruscha. The MONA app is available to download FREE from the Apple App Store and Google Play.
The MONA app development is funded by the Nebraska Tourism Commission and by Steve and Jennifer Homan with their daughters Claire, Samantha, and Mia.