August 30, 2011 – January 8, 2012 —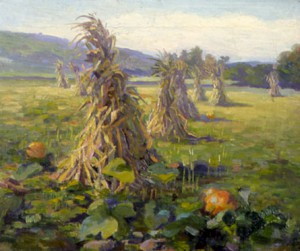 In celebration of the 100th anniversary of the Museum of Nebraska Art building, an exhibition featuring newly acquired photographs documents construction of the stately structure. Many of the pictures are by Solomon Butcher, famous for his sod house images. By the time of the construction, Butcher and his son had a photography studio in Kearney. Along with another Kearney photographer, Alfred T. Anderson, they were contracted by the Federal Government to record the construction of the Kearney Post Office and Federal Building. Donated to MONA in 2010 by the United States Postal Service, this exhibition marks the first time these historic photographs have been on public view. Accompanying the photographs are archival schematics and correspondence about the construction process. Viewers are able to understand the progress of the construction and develop a sense of the labor-intensive methods used to build a structure as grand as this one.
The second part of the exhibition celebrates the 35th Anniversary of the Museum of Nebraska Art collection which began as an idea in 1976. A timeline of notable events in the collection's history highlights the passionate efforts of many for this grass roots effort to build a collection that celebrates the art of Nebraska. Included is a selection of artworks that mark significant moments, such as the acquisition of the first works for MONA's collection (six paintings by Clarence Ellsworth) and the oldest piece entitled The Stag by Titian Ramsay Peale. Also highlighted are a small number of artworks from memorable exhibitions over the past 35 years.
In honoring the legacy of this beautiful building and the history of the Museum of Nebraska Art, From Postage to Paintings was curated by two of the founders, Dr. Gary Zaruba and Dr. Larry Peterson, along with Collections Supervisor Jean Jacobson and Director of Education Jill Wicht.